Hey everyone!
Update: June 11, 2008
Wow, a lot has happened since I started this selling journal. I'm back in Canada now, but still importing a lot of cute items from China. Ling Mao (my cat) had to be left behind and I'm very sad, but because of the name of this shop, I'll always be able to remember her.
Welcome to my selling journal.
Here, you'll be able to find lots of adorable items I have imported from China and Hong Kong. I carry lolita mostly, but I am starting to try to carry regular cute fashion as well. I am doing what I can to start to manufacture larger sizes, but currently only lolita items are able to come in many many sizes.
I do what I can to represent sizes to the best of my ability. I try on most of the items to get a feel for if they will fit bigger, since it is a "one size fits all" for the regular clothing. Lolita clothes definitely fit according to their size charts, although certain styles can go bigger or smaller due to their details, such as shirring or lace up details.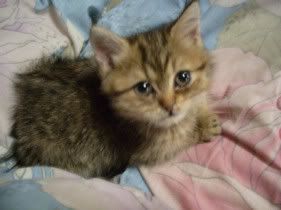 My Ling Mao - she was the inspiration for the name, although she's still in China. Currently, I live with a bunny named HanBaoBao (hamburger in Chinese) and she stays in a cage until I let her out to play, so no animal fur will get on the clothing.
Some rules about my sales.
1. To purchase something, please use this form:
Livejournal ID:
Email address:
Location:
Item 1: (name of item)
Size: if applicable
Colour: if applicable
Continue for more than one item
2. I can currently only accept payment through Paypal. I take any form of it, credit card or otherwise without a fee.
However, if you are within Canada, I may take personal cheque or money order with some conditions if you ask first.
3. All items will be shipped from Alberta, Canada. If you are ordering from outside of Canada, please be patient with shipping. It can take longer than estimated a lot of the time. This has been my experience with
Canada Post.
4. Once I ship an item, I am not responsible if the item is damaged or lost in shipment. I cannot control the mail. Insurance is included in most shipment costs for this reason.
5. All shipping costs are estimated. Usually over-estimated. This is to ensure I do not lose money. You are paying for proper packaging (usually a bubble envelope unless it is a larger order) plus the actual shipping service.
If I have over-estimated by $2, you will be refunded the overage.
If you wish to purchase multiple items, I do combine shipping, but it will be refunded after shipment to ensure I have charged the proper amount.
Please do not place an order unless you intend to pay. Please ask all questions before starting the order process! Thank you!
I hope you like what you find here, and I'm always open to comments and suggestions!
Thanks for coming by and check back again soon!